6 Things to know about FAUX LOCS!
I'll admit it, I never liked locs. Ever since I was a child. I didn't understand these long rope-like twists that extended from one's scalp. As I got older and started to embrace my own natural hair, I began to look at them differently. I also realized something else; our natural hair grows best when left alone. Have you ever noticed the crazy lengths those with dreads are able to achieve? The lack of styling, combing, brushing, and twisting probably have something to do with it. But, it is a pretty permanent decision (although there are those that claim that you can remove dreads without cutting them off) and one that I'm not quite ready to embark on just yet. Their beauty has become undeniable to me though. Enter…faux locs!
Every few months, I usually do a protective style. I decided to try faux locs. Why not? The process was so simple and I absolutely love them. So I thought I would briefly mention 6 things you should know about them and how I plan on maintaining my faux locs.
1. Faux locs can be temporary OR permanent.
I obviously went with the temporary option. My hair was twisted and the locs were basically wrapped around my twists. This style can last up to 3 months and it's considered a protective style because you are not altering the chemical or physical state of your own hair. In the permanent version, human hair is wrapped around your natural hair or actual human hair locs are attached to your roots. Your own natural hair can be re-twisted and turns into a loc as the hair grows.
 
2. Choose the right hair texture.
Since you have human hair, synthetic and yarn fiber as options, be sure your stylist evaluates the strength of your natural hair. Yarn is the most lightweight and will not pull the hair down as much. Human hair is more dense and allows a bit more flexibility. Synthetic, which is the most popular, comes in numerous textures and offers the most flexibility, but is heavy. Be sure, if you opt for a large size faux synthetic loc, you leave perimeter hair strands out to alleviate hairline stress. Mine are a very lightweight synthetic.
  
3. Pick your color wisely. 
Faux locs are the ultimate protective style because they literally "loc you in" for a period of time. With that said, pick your color wisely! Warm brown and red tones are great for fall and often come blended with a dark brown or black. Going darker means it will blend well with your natural color and be less shocking of a transition. I opted for 3 different shades (off black, deepest brown, and a honey golden color).
 
4. Commit to a manageable length.
The longer the loc, the heavier the load. Regardless of fiber, be careful when choosing the diameter and length of your locs. Because mine are so lightweight, I had them installed pretty long (almost waist length) but I plan on cutting every few weeks or so just to change them up.
  
5. Soak the locs before installing them.
This is so important for those of you who have issues whenever you wear synthetic hair. The itching! Oh, the itching!! Some people even develop sores on their scalp! These synthetic hairs are usually coated with an Akaline Lye. It is a chemical distributed onto strands by the manufacture to produce a wear or heat resistant product. The overall goal was to create hair  that would protect you with a high thermal resistance. However, this added component can cause our scalp to become extremely irritated, dry and itchy or form small hairline bumps. Solution? Soak the hair in a hot water/apple cider vinegar bath for 20 minutes. One cup of the vinegar is plenty. When a white film appears, remove the hair, rinse with plain warm water, squeeze out excess and hang to dry. TRUST ME. You (and your scalp) will thank me later.
  
6. Maintain your OWN hair underneath!
As I've mentioned before, the term protective style doesn't mean neglected style. Hair care and maintenance is a must for faux locs! You should oil your scalp daily, wash and condition at least bi-weekly, and take a daily vitamin. If you're familiar with washing your hair with braids, you know it can get heavy. Try putting your hair in a loose bun because your main focus is really to clean your scalp.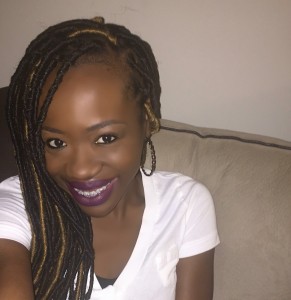 When it's time to take out the locs, you might be amazed at how much your own hair has grown! What protective styles are you wearing or plan on wearing soon?
   
*My faux locs were installed at All Dolled Up Salons & Stores by Myriam Muhammad. Visit www.aduluxe.com for more information or to schedule an appointment.